Presentation of a dog collar and leash design
Design 349 – Atoll
Description
The decorative side of the Atoll collar is made of an impregnated polyester fabric in green/turquoise color. This fabric is water-repellent (not 100 % waterproof), wicks away water, does not get soggy, and dries faster than other fabrics. Collars (except puppy collars) are lined with greyish-blue polyester fabric that has no shine.
Collars in Atoll design are smooth, medium-thick, and a bit rigid, but the size adjusting is easy. They are suitable for moderate to everyday wear. The water repellency of the decorative fabric decreases with washing. Collars are available in different types and widths, the design is shown on a 5 cm wide martingale collar.
Each collar is handmade, carefully and custom-designed from quality non-animal origin materials. For the most beautiful look and comfort, a strong nylon webbing is always hidden in the core of the collar. Metal fittings are silver-colored (nickel finish – not stainless), D-rings are welded for maximum safety. Each collar is finished with a genuine Galgina label.
Leashes in Atoll design are fully wrapped in decorative fabric and are sturdy, smooth, and easy to maintain.
Options
While stock lasts, the presented design can be used for:
martingale collars: 2,5 cm, 3,8 cm, 5 cm
non-tightening collars: 2,5 cm, 3,8 cm, 5 cm
puppy collars
buckle collars: 2,5 cm, 3 cm
simple leashes: 2 cm, 2,5 cm
multipurpose leashes: 2 cm, 2,5 cm
---
Required details for collar order (martingale, non-tightening, buckle):
collar type
collar width
collar design
dog's neck circumference (A), measured in the middle of the neck
dog's head circumference (B), measured right in front of the ears
puppy's breed and age if younger than 1 year of age
invoice and delivery information: name, surname, address, postal code, city
payment method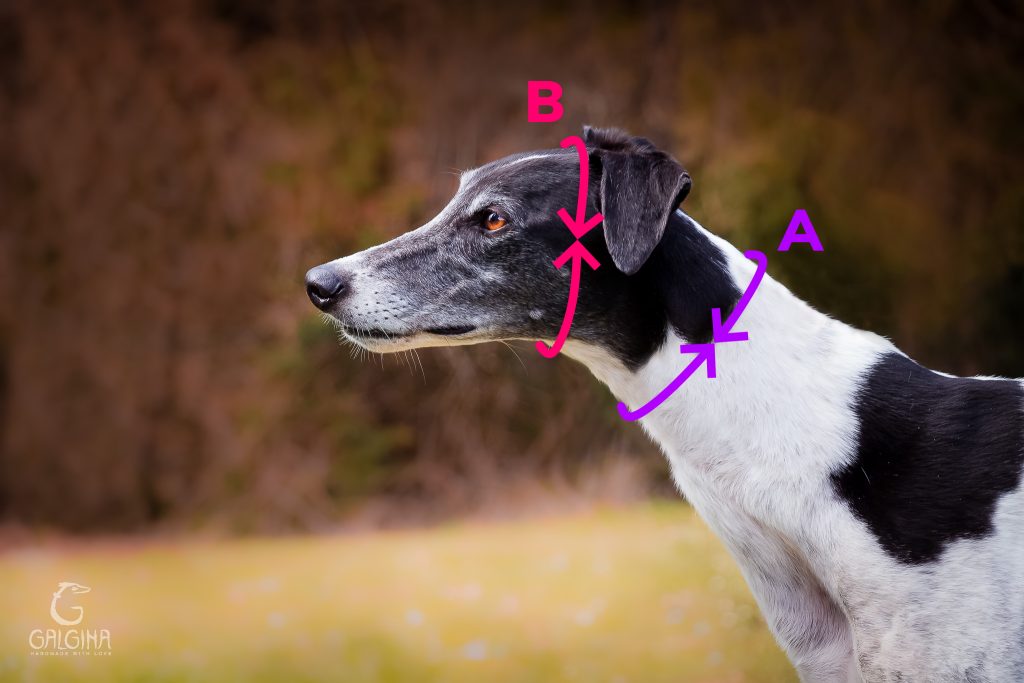 Required details for puppy collar order:
collar type
collar design
collar size
invoice and delivery information: name, surname, address, postal code, city
payment method
Required details for leash order:
leash type
leash width
leash design
invoice and delivery information: name, surname, address, postal code, city
payment method